Check back often to keep up to date on the latest happenings in our Children's Ministry!
________________________________________________________________________________________________
https://www.facebook.com/MountainsidechildrenUMC
Nursery Staff
Lydia Montano
Mary Kozik
Children's Church Leaders
Bible Beginnings


Youth and Children's Sunday School
Nursery. Newborns to age 4, 10:00AM to 12PM
Bible Beginners. K – 3rd graders, Room 204
Faith Finders. 4th – 5th graders, Room 202
Spirit Seekers. 6th – 12th graders, Room 205
Dear Families:
For the month of January, we have been practicing some social distancing with the ever-growing concern of New Mexico's COVID 19 numbers. So many of our families and friends have been sick and taking time to recover. We Hope that you all are staying safe and well, and we want to remind any families and friends that Mountainside United Methodist Church Children's Ministry is always here for you. If you need someone to talk to, looking for resources, wanting to pray for someone we are here. Please feel free to contact the Pastor and our team pastor@mountainsidemethodist.org or you can reach out to Heather and the children's Ministry at children@mountainsidemethodist.org
We are currently having our LEGO and CONNECT with GOD class, every Wednesday evening at 5pm except for the third Wednesday of the month, so that families can attend Messy Church. In our LEGO and Connect with God class we review our lesson and build scenes from the lesson with Lego's. There also are a lot of wonderful Lego bibles videos made to have a visual for children to learn from. We then have a family dinner at 5:30pm which is a great time for families to be together and share experiences. We then continue with our Kids Connection Class at 6pm where we continue our lesson with a craft, and games. This is where we are learning on "The Story". The children are building strong relationships with the bible and new friends. These classes will continue throughout the year. Our Class in now sitting at 11 children ever Wednesday night. If you would like to help volunteer for helping in the class, we would love for you to come and join the fun. Please contact Heather

Our Children's Church classes are available at 10:30am for the onsite service. Children will start their morning off in the sanctuary and be invited to attend Children's Church which depending on class size will either be in the Nursery, or upstairs with Mrs. Mary, and Mrs. Lydia. During class they will review the scripture for the day and have the opportunity for crafts and games. Our class is growing, and we are looking for volunteers who would like to help with one Sunday a month connecting with the children and teaching a lesson that will be provided for you and all the supplies. This is a wonderful volunteer opportunity and helps the children connect with more in our congregation. Please contact Heather if you are interested.  Sign up sheets are also all around the church. Children@mountainsidemethodist.org

---

Starting February 2nd we will be having a Parents Bible study while the children are in their classrooms. Every Wednesday except the third Wednesday of the month we will have a Family Dinner and then families will go to their classrooms from 5pm to 7pm.
Family Life's Art of Parenting will help parents find new ways to integrate faith into everyday parenting moments. We can help parents make faith the core of their parenting with intentional, biblical teaching and Christ-centered plans. Parents will end the eight sessions with renewed confidence, fresh insights on parenting children of different ages, and a parenting plan unique to each child's personality and gifting.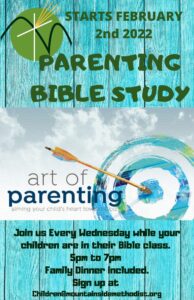 PARENTS NIGHT OUT UPDATE:
There will not be Parents Night out for the Month of February. We will continue in the month of March with two for that month. Friday March 4th and 25th. First with Peabody and Sherman, and Peter Rabbit 2. Each event will be 5:30pm to 8:30pm $15.00 per child and discounts for siblings. Children will enjoy Dinner, Snacks, Crafts, games, and a movie. Please register asap with Heather at children@mountainsidemethodist.org to reserve your spot so we have enough supplies for kiddos.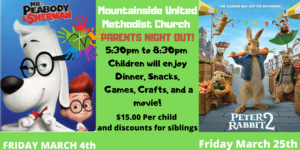 We have many opportunities for children to grow in Christ. 
Follow us on Facebook for Updates and other fun activities. https://www.facebook.com/MountainsidechildrenUMC

Upward Sports Upward basketball and cheerleading is a fun and exciting Christian sports league for boys and girls in K-8th grade. Upward promotes character and self-esteem by providing equal playing time for every player, one-hour practices, weekly games, and positive coaching and role modeling. Upward Website